Repost from original release thread, found here. Check the original thread for resolving issues. This release has not been updated.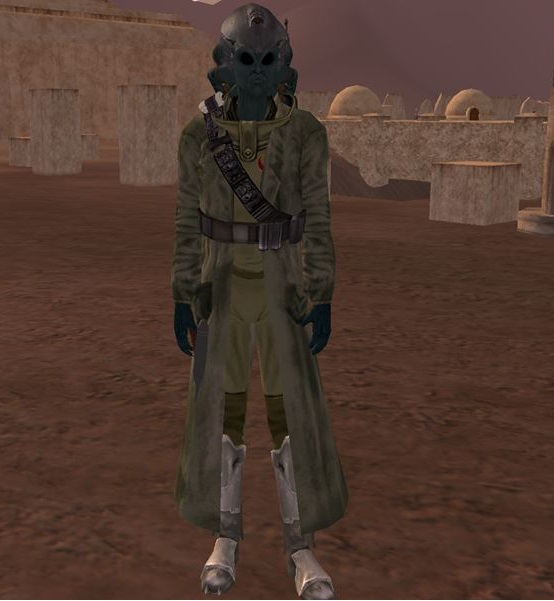 ------------------------------------
TABLE OF CONTENTS
I. INTRODUCTION
II. INSTALLATION
III. UNINSTALLATION
IV. VERSION HISTORY
V. INCLUDED FILES
VI. KNOWN ISSUES
VII. MISCELLANEOUS
VIII. CREDITS
------------------------------------
I. INTRODUCTION
This patch, which contains both server-side and client-side elements, introduces a whole list of new races to use in SWG by players. What species, you ask? Here's the full list post-installation:
Aqualish
Bith
Bothan
Chiss
Devaronian
Gotal
Gran
Human
Hutt
Ishi Tib
Ithorian
Mon Calamari
Nautolan
Nightsister
Nikto
Quarren
Rodian
Singing Mountain Clan Witch
Sullustan
Talz
Trandoshan
Twi'lek
Weequay
Wookiee
Zabrak
It's time to make the galaxy a more interesting place to be!
------------------------------------
II. INSTALLATION
Client-side installation is simple - just add species.tre to your TRE load list. If you are already using existing content, you'll need to merge certain files, such as your CRCs, to ensure compatibility.
Server-side, you'll also need to add species.tre to your load list - the caveats above about file conflicts apply. In addition, you'll need to do the following:
Replace the existing races.h file with races.h from the zip.
Replace PlayerCreationManager.cpp and ImageDesignManager.cpp with versions from the zip. This is necessary to prevent issues with hairstyles. SWGEmu, as coded, only allows one race/gender to have a hairstyle, which means Chiss and the witches would have no hair. PCM and IDM versions above disable the hair check.
The "player" folder contains the necessary LUAs. I have full confidence you can figure out how to use them.
You will also need to modify your LUAs for all equippables to include the new races as valid strings. I did not include versions of these, as you may wish to customize what species can equip what items. Clipping matters more to some people than others. If you need help, please ask.
Finally, you will need to modify the skills.iff datatable to accomodate the new species. I did not include a copy as my skills.iff is nowhere near stock otherwise, and I couldn't be bothered to create a clean one for this. Plus, a number of servers are running customized skills.iff tables anyway.
------------------------------------
III. UNINSTALLATION
Client-side, just remove the TRE files.
Server-side? I recommend you don't.
------------------------------------
IV. VERSION HISTORY
Beta 0.5 (Released June 4, 2016)
------------------------------------
V. INCLUDED FILES
species.tre - compiled files necessary for the client to use species
races.h - header file for server to enable the species for player creation
ImageDesignManager.cpp - modified version of SWGEmu's file to remove hair check for image design
PlayerCreationManager.cpp - modified version of SWGEmu's file to remove hair check for player creation
Player folder - LUA files necessary to enable the species on the server.
------------------------------------
VI. KNOWN ISSUES
*While all customization works on character creation, some options do not work on image design. In certain circumstances, this can cause the server to segfault. YOU HAVE BEEN WARNED.
*Clipping. It's everywhere.
*Certain races will turn headless when a hat or hood is equipped.
*New races do not show the proper name on the character sheet. I have not yet been able to work around this issue.
*Certain races have issues with stat migration.
------------------------------------
VII. MISCELLANEOUS
This version of the modification has been tested with the SWGEmu's Core3 server in May of 2016. It may not work properly with future publishes or even cause crashes and other trouble.
The author of this release is in no way, shape, or form liable for problems that may arise from using this content.
------------------------------------
VIII. CREDITS
Thanks again in particular to Phoenix for helping me out early on. It was invaluable in figuring out my early issues.
Also thanks to Sytner and Timbab for SIE - without it, this wouldn't have been possible for me to do. (Someone smarter than me, sure!) In the future, new versions of SIE should allow me to do even more races.
------------------------------------
DISCLAIMER: The author(s) of these files do not accept any responsibility for
anything related to them. Use at your own risk! Please ask the respective
author(s) if you want to use these files for anything else.
Want to see what else I'm working on? Check out
empireinflames.com
or join Discord!